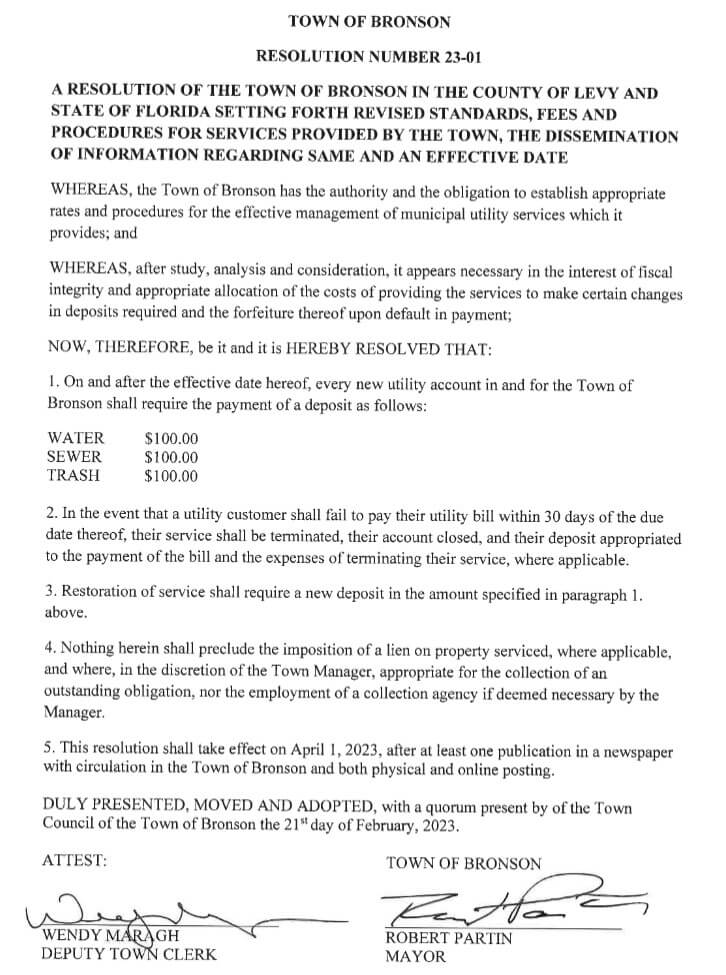 The Town of Bronson is proud to offer water, sewer, and garbage pick up to its residents. These services are all paid for through your Utility Bill. It is the mission of the city to provide accurate utility bills in a timely manner to our residents.
This page has been provided to give you information about our utility billing practices. Also, new customers are able to get information on establishing new service.
Payments are accepted by:
In person at Town Hall – 650 Oak Street
My mail at PO Box 266 Bronson, FL 32621
After hours-Drop box behind the Town Hall (please do not put cash in the drop box)
In Person payments:
Cash
Check/Money Order
Credit Card (Visa-Master Card accepted) (include a 3.5% Processing Fee)
Online Payments:  All card payments include a 3.5% processing fee.
TOWN OF BRONSON
RESOLUTION 22-29
RESOLUTION REGARDING WATER AND SEWER RATE INCREASES
Curtis Stacy, Public Works Director
Phone: (352) 486-2354
Email: parks@townofbronson.org
Beth Brenman, Utility Clerk
Phone: (352) 486-2354
Email:  utilityclerk@townofbronson.org